Epidemic is on the Spaniards' side
A Council of war was held on April 15, at which it was decided the only way San Felipe could be taken would be to bombard it from the ships in the bay. This, it was decided, would be too dangerous to the fleet. According to the English historians, the widespread dysentery, malaria and yellow fever had rendered their forces unfit for another frontal assault so the men and equipment were reloaded on the ships and preparations were made to return to England. It took them almost a month to get ready for sea and to destroy the forts that they had taken. On May 12, the last of the English had left and the siege of Cartagena was ended.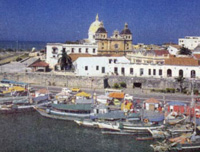 Los Pegasos Quay
Vernon is left with his victory medals
The English had been so sure of success that they struck some victory medals as soon as the siege was underway. The inscriptions reflected their confidence: "The forts of Cartagena destroyed by Ad. Vernon", and "They took Cartagena, 1741." Probably the most arrogant of them all was the one showing Vernon and Ogle standing in front of Don Blas as he kneels in surrender. The inscription says, in English of course, "The pride of Spain humbled by Ad. Vernon."
The English apparently felt it was ungallant to conquer half a man so they put his arm and leg back on for the capitulation that never took place. As a result of the leg wound he had received Don Blas de Lezo was to die shortly after the withdrawal of Admiral Vernon's fleet. His indomitable spirit represents the best of Cartagena's colonial tradition. This spirit was to rekindle during the independence movement of 1810, when Cartagena declared its partial independence from Spanish rule.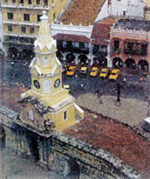 The clock tower in the Old Town
At first Cartagena claimed continued loyalty to the Spanish King and his son, then in prison thanks to Napoleon. The Cartagena call was followed by Santa Fe (Bogota) and other cities. Pressure toward complete independence grew until the final declaration of independence on November 11. This first period of independence was to last only until 1815 when Royalist and Spanish forces under Morillo retook the city and executed nine of the revolutionary leaders.
In this way, Cartagena was to pay dearly for its early challenge to Spanish authority. Final independence was not until 1821. For its early calls to arms and its repeated sacrifices during the struggle for independence, Simon Bolivar gave to Cartagena her well deserved name: La Heroica, the Heroic City.