Private Tours in Cartagena by Lee Miles
I provide help with private tours of Cartagena at the request passengers who are planning to visit aboard cruise ships calling in this port and who want more flexibility and/or personal attention for their Cartagena shore excursions.
I need to clarify that I arrange the tours: developing a tour timing to match your interests, arranging for the guide and driver, and getting the transportation into the port so that it is available right at the foot of the gangway alongside the ship. I am not your guide, but I'll make sure you get the best available guides. I will be there to meet you at the gangway to get you started on a great day in Cartagena.
If you prefer the personal attention of a small group in either a sedan or a van we can tailor your experience exactly to your interests and capacities. If you are looking for the best price and don't mind going out with a larger group, I can provide three standard bus tours in mini-buses. Whether or not they will operate on any given ship's visit will depend on whether there are enough people to share the larger vehicle. For brief descriptions of the standard tours, see "Pricing:" (below).
Tour options and general information:
Time base:
An extensive historical tour of Cartagena including some shopping can be accomplished in 4 hours. If you are planning to have lunch, however, you should figure on 5 hours or a bit more. Normal pricing is made on the basis of a 4-hour tour. I have done tours that ran a full 8 hours, with a morning tour, lunch, and then additional sites in the afternoon. My advice is that in the heat and humidity of Cartagena you need to be sure to take it easy and not overtax yourself physically.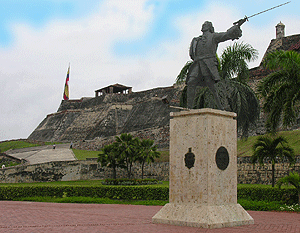 Monuments/sites:
You can choose to either do "photo stops" at the sites and monuments, or to pay the fees and enter for a full tour. Entrance fees to the monuments/sites are paid in advance so that we have no delays or payment problems to gain access. A "normal" tour, without rushing, might include1-3 sites/monuments. You can choose to shorten and lengthen different elements of the tour timing to meet your needs that day. It is one of the great things about taking a private tour in the first place.
Shopping:
In contrast to the Eastern Caribbean, shopping in Cartagena is not the same procession of European brands and foreign products (Fendi, Gucci, Rolex, Lladro, Diamonds International). Instead, everything you find in Cartagena is really from Colombia. This goes for the coffee, handcrafts, leather goods cigars, and chocolate, as well as the premier product: emeralds and emerald jewelry. The best of the shopping opportunities are concentrated at Pierino Gallo Center about 10 minutes from the Old City in the new part of town. If your interest is simply to pick up handcrafts and souvenirs then you can stop at the Dungeons (Las Bovedas), a group of 20+ handcraft stores in the Old City.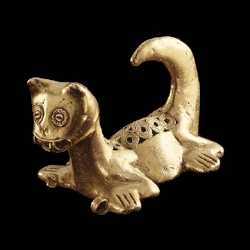 The Gold Museum has many
striking examples of
Pre-Colombian art.
"The fine print:" I have been involved in the sale of emeralds and fine jewelry in Cartagena for over 30 years. My store, Mister Emerald, is located upstairs at the Pierino Gallo Center. Regardless of this, your tour of Cartagena will be organized according to your wishes. If you do, or do not, wish to look at emeralds or visit the Pierino Gallo Plaza while you are in Cartagena, it is entirely up to you.
Transportation
Transportation will be either in a private car (max.4), a van (max.8), or a mini bus (max. 26). Other options are available for large groups.
6-8 is the best number for a van. Technically these vans hold 14, but I figure 8 is the most you want to have share a van and still be comfortable. For smaller groups there are private cars, but I do not recommend taking 4 in a private car; it is really too snug, with three sitting in the back seat. Two or three will be more comfortable.
To be efficient from a cost point of view you need to either hold the group to 8 persons so that you can fit in a van, or alternatively get at least 14 so that you can move up to a 26-passenger mini- bus. Obviously we can choose to have 9 to 13 in a bus, but it means that the cost per person of the transportation/guide piece of the tour price will be slightly higher than the per-person price for 8 in a van.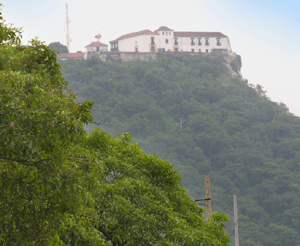 La Popa Monastery on the Hill
Guides
I use only the very best available guides. After 30 years in Cartagena, I know who is who. There are some of these guides' names that have been mentioned positively on the Cruise Critic message boards. If you ask for specific guides by name I will do what I can to have them handle your tour. Be aware that these guides sometimes have other commitments on the specific day of your visit, as they are also much sought-after to guide the ship's shore excursions. We will always make sure that you get a good guide that you can understand, that is knowledgeable, and that you will be comfortable with.
Port
An important aspect of these private tours is that the guide and transportation are waiting for you inside the port, right on the pier where the ship docks. Once we have confirmed your tour, when you arrive in Cartagena make sure that you look for us on the pier alongside the ship and do not leave the ship/pier area. Often there is quite a congestion as the ship's tour buses are loaded, so you need to avoid 'following the crowd', and instead look for our signs and/or vehicles. (NOT 'following the crowd' is generally why you wanted to take a private tour in the first place!)
Special needs/mobility issues:
I need to know if we need to accommodate a wheelchair or scooter, and/or what the other mobility issues might be for the different members of the group. Several of the sites require climbing stairs to gain access to the second-floor exhibits, so we need to be sure that everyone can handle the monument/site choices we choose. While Cartagena is not very "wheel chair friendly", we can often work around things by arranging for a little special lifting help, or by having the wheel chair guest do a photo stop of the most challenging monuments while the rest go ahead and do a full tour. We of course adjust entry fees accordingly.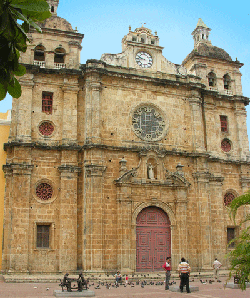 Church of San Pedro Calver
Pricing:
Pricing consists of a fixed amount that covers the vehicle, guide, port entry fees, etc. PLUS the entry fees to the monuments/sites we choose to include in the tour.
New for the 2011-2012 Cartagena season:
Following are three sample tours that you might do in Cartagena. They include increasing numbers of fee-paid monuments/sites, and therefore are organized from lower to higher price.
CC-A -- A full tour of the Church of San Pedro Claver, photo stops at Palace of the Inquisition and San Felipe Fortress, walking tour in the Old City, shopping.
CC-B -- Including full tours of La Popa Monastery, Church of San Pedro Claver, walking tour in the Old City, photo stops at San Felipe Fortress, and the Palace of the Inquisition, shopping.
CC-C -- Tour including full tours of San Felipe Fortress, San Pedro Claver Church, Palace of the Inquisition, walking in Old City, and shopping.
Of these tours "CC-B" is the most balanced and suitable for the majority of first-time visitors. It has a good mix of fee-paid stops and walking/photo/information opportunities of the various sites/monuments, is not too strenuous,and is moderate in price.