Out and About
City Tour:
If you are in Cartagena for any length of time, the city tour is a must.


In addition you might locate the Plaza Santo Domingo, and a block and a half beyond it the house of the Marquis of Valdehoyos, a beautiful 17th Century structure. This mansion is worth a visit to get a feeling of how its onetime inhabitants lived.
In the center of the Walled City is the Plaza Bolivar. Here you will find the main Cathedral, the Palace of Inquisition with its museum, and the Gold Museum that houses a small but excellent collection of pre-Columbian gold work. You should make it a point to visit the Gold Museum.
Getting out and seeing the Old City on foot is perhaps the most satisfying reason for visiting Cartagena. This is an experience unmatched in the New World. You can hide from the heat of the day in the many cafés and restaurants that have sprung up downtown.
Naval Museum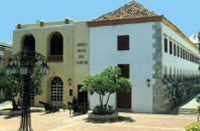 Located in the Old City near the Hotel Charleston and Plaza Santa Teresa.
Its collection includes a permanent exhibition relating to Cartagena naval military history, marine navigation, and the Colombian Navy from both Colonial and Republican periods.
The Museum of Modern Art is located in one of the most picturesque corners of the city on the Plaza de San Pedro Claver. Carved stone consumed by time contrasts with fresh plaster. The museum maintains a permanent exhibition of the charming bronzes of its native son, the painter and sculptor, Enrique Grau, . Local and visiting artists exhibit their work. This space is luminous and full of color; the vantage point for viewing the soul of Cartagena.
---

Rosario Islands
A Hideaway Nearby
A mere twenty miles from Cartagena are the Rosario Islands and National Coral Park. This group of islands and the nearby Baru Peninsula provide the blinding white beaches and blue-green waters that you don't find right in Cartagena itself. Day tours are provided by several operators, and there are also several options for overnight accommodations. The islands are a convenient base for divers, and can offer visitors to Cartagena a totally secluded extension to their Cartagena vacation.
---


The Cartagena International Film Festival is an annual event in March. Visiting artists in 2002 were Harry Belafonte and Danny Glover./>