The True Legend of Don Blas
f there is one man who stands out in Cartagena's colorful 470-year history, it is Don Blas de Lezo. He was born in Spain in 1689, in the Basque country, of noble parents. As was the custom with the well born, he entered the service of the King, and as a young officer he had the misfortune to lose his left leg in the battle of Gibraltar when he was 16. He remained in the service, however, and in the battle of Tolon he lost his right eye, and more was to come. Even when in the battle of Barcelona he lost his right arm, he continued as a commander, as his reputation for tenacity and courage was already making him a legend.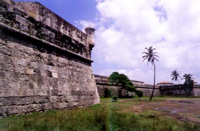 Bulwarks of San Lucas and Santa Catalina
- Old City Walls
Don Blas is Called
In 1740, King Philip's spies in London learned that Edward Vernon and Chalamar Ogle were planning a major assault on Cartagena the following year. On learning this, Sebastian Eslava, the Viceroy in Cartagena, immediately requested Don Blas de Lezo to bring his fleet to help and defend the city. This gave Don Blas scarcely four months to train and coordinate the defending forces. Historians differ on the number but it was probably less than 2,500 counting slaves and Indians, and about 500 Spanish soldiers.


Bulwarks of Santo Domingo
Edward Vernon fills the horizon with his fleet
It must have been a frightening sight when on March 15 the first three English ships arrived and anchored in front of the city. They kept coming all through the following day until there was a line of them anchored as closely to each other as they dared, facing the city from Punta Canoa to Bocagrande. The total force had 186 ships mounting 2,070 cannons. Not counting the sailors, there were 23,600 men just waiting for orders to go ashore. One of the regiments was composed of North Americans commanded by Lawrence Washington, a half brother to George. The Washington family admired Edward Vernon so much that they were later to name the family home site Mount Vernon in his honor.