Recommended Places to Stay in Cartagena
General Information:
Cartagena offers accommodations from "Six Star" premium hotels to boarding houses, and from all-inclusive resort hotels to business and convention venues. Here we include a few, but by no means all, of the options available to you. Please feel free to contact us for further information.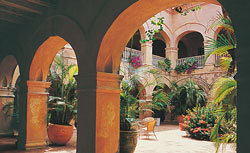 The most congested periods for Cartagena hotels are in the midwinter months of January through March, and particularly December 25 - January 15 and Easter Week. Even in these periods you should have no difficulty finding rooms if reservations are made with sufficient lead time.
Your choice of hotel in Cartagena hinges on your needs as well as your budget. If your requirements are for a business meeting venue you might opt for hotels such as the Cartagena Hilton, Almirante Estelar or the Caribe Hotel. If your interest is in premium accommodations inside the Walled City there are the options of Hotel Charleston or the Hotel Santa Clara. For smaller budgets there are several small "residencias" in the Walled City as well. Those interested in a resort experience might consider the Novotel Coralia Las Americas, or the all-inclusive packages offered by the Decameron.
---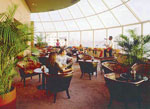 ALMIRANTE CARTAGENA ESTELAR
A spectacular resort with all the amenities of a world-class business travel and vacation hotel. It's the place to enjoy modern comfort on the beach and the enchantment of a Spanish Colonial city. A member of the premier Hoteles Estelar chain.
---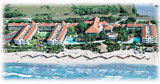 NOVOTEL CORALIA LAS AMÉRICAS
This unique facility combines the business travel emphasis of the Novotel name with the focus on relaxation, discovery and activities of Coralia. 250 rooms with balconies and sea view. 5 meeting rooms, 4 restaurants, Business Center, extensive secure beach.
---

CARIBE
The grande dame of Cartagena 5-star hotels. 40's charm with modern facilities, excellent pool, wonderful grounds. Convenient to the best shopping. Extensive beach bar and services.
---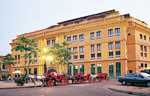 CHARLESTON
A superb hotel! This restored 17th Century convent in the Old Walled City boasts 91 rooms, 22 suites. Services are state of the art. Meeting facilities center around "The Chapel" with a capacity for 220 delegates./>
---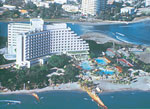 HILTON RESORT & CONVENTION CENTER
With privileged location and exclusive beaches, Hilton Cartagena commands the tip of El Laguito. Specialized services for conventions (capacity 1500) with the warmth and expertise of Hilton.