Plaza Pierino Gallo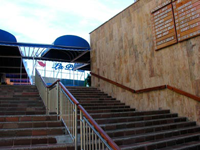 Pierino Gallo Shopping Plaza (pronounced Pierre-EENO GUY-oh) is located in El Laguito, ten minutes by taxi from the Old City. El Laguito is the final tip of the peninsula known as Bocagrande or the New City. This part of town is quite surprising to many visitors, because of its many high-rise buildings, seaside towers that are mostly condominiums, but are also interspersed with beach and resort hotels.
Pierino Gallo Plaza itself is a modest building located a block beyond the venerable Hotel Caribe and three blocks from the Cartagena Hilton. A two-story structure faced with caramel-colored marble, its shops are located all the way around the building on the ground floor, and on an upper open-air plaza that is reached by stairs on two of the four sides of the building. Don't let its modest appearance mislead you: Pierino Gallo Plaza is the most important retail sales point for emeralds in world!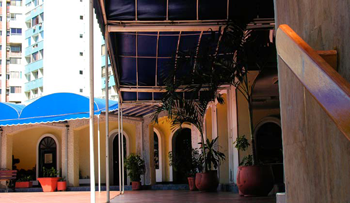 Colombia is the source of a large proportion of the gem emerald production in the world, and in Cartagena these emeralds are made available to the hundreds of thousands of cruise passengers that visit the city each year. Since its construction in 1974 this commercial center became the primary location for numerous emerald and fine emerald jewelry shops, and the primary shopping stop on all city tours. All of the stores recommended by the cruise lines are located in this one spot; and many more besides. As a result itisastopnottobemissedby anyone with an interest in the many shopping opportunities afforded by Cartagena.
One thing that you will note is that the shopping in Cartagena is different from that in other Caribbean ports of call. While in the latter you find almost exclusively the long list of European brands, in Cartagena you find none of these. This is a positive thing, because it is a reflection of the fact that everything available in Cartagena is Colombian in origin, be it coffee or chocolate, reproductions of pre- Columbian gold work, leather or handcrafts, emeralds or fine gold jewelry.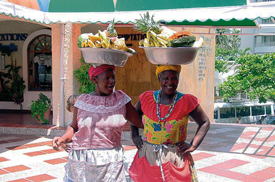 The night side of Pierino Gallo Plaza is totally different, with an active casino and night life. All cab drivers in the city will know exactly where to take you.
You owe it to yourself to pay a visit to the Pierino Gallo Plaza, the world's most important center for emeralds and emerald jewelry and the keystone of shopping opportunities in Cartagena.